Mission Statement & Core Values
Mission Statement
Our aim at Redlands is to be a happy, caring school, providing quality education within a family environment. Pupils are recognised as individuals, the learning process is seen as a partnership made up of children, their parents/carers and their teachers.
Core Values
At Redlands, we have a set of 'core values' to help guide us in our learning, thinking and decision making. All members of the Redlands community, children and adults alike, try to demonstrate these values and help to sustain the positive ethos of our school.
When creating our core values we asked for ideas from children, parents and carers, governors, staff and anybody else who wanted to have their voice heard! We had lots of great suggestions and the ten most popular ones are the core values we use today. You might have even suggested one of them!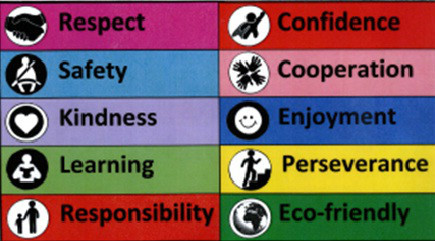 When you spot somebody demonstrating one or more of the core values (which should be easy to do!) you can nominate them to be our Core Values Champion. The nomination box can be found on the lower KS2 corridor outside Class 10. Remember to write down the name of the person you are nominating and the reason before posting your nomination into the box. The most worthy winner is selected and presented with their award in assembly on a Friday.
Which of the core values have you demonstrated today?
Will you be our next champion?